The world that seemed endless and almost about to expand again, gained its borders with a planned shards update. Now those close to Highway 100 have a full right to say they live at the edge of the world. Let's capture a snap of the colonies in their current state before the world gets divided into "continents" and the map changes unpredictably. While few players will take the risk to respawn into a brave new world, we believe many owners of a high GCL will decide to start their branches in a new shard for defense or profit.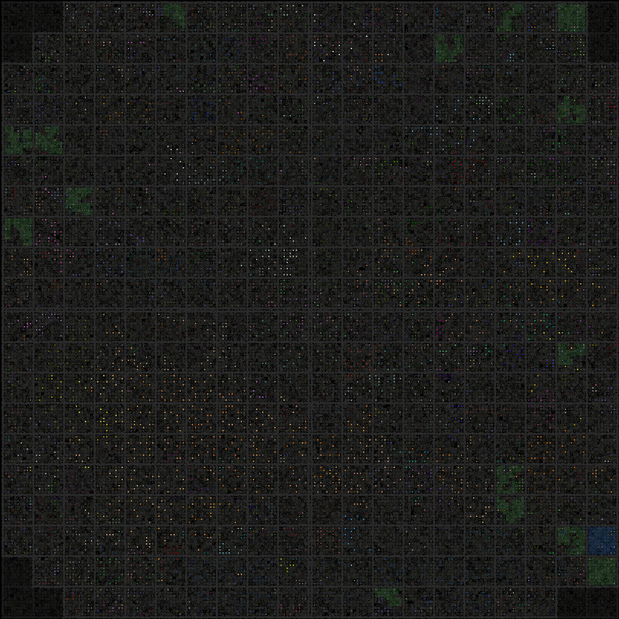 The driver of the game is interaction between players, so those who want to keep up with the Screeps rhythm should better use the alliances map from leagueofautomatednations.com. We've overlayed the current map over the 3-month old one to better assess the dynamics of power and influence shifts: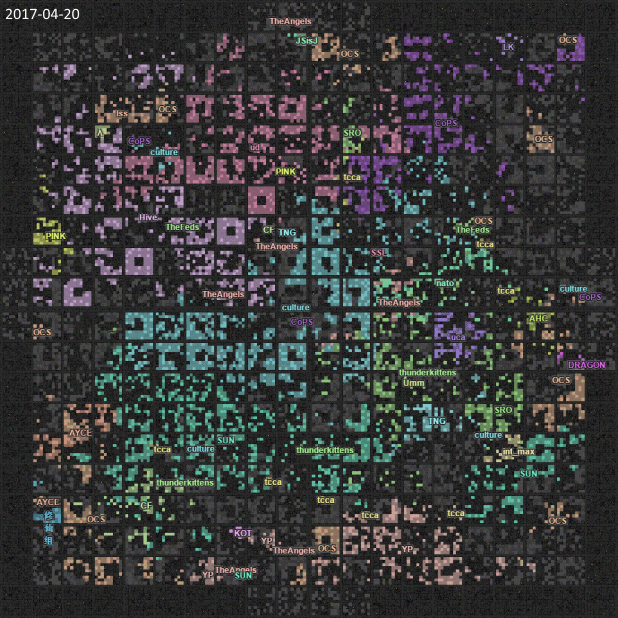 In terms of geography, the key change is disappearance of top players Hernanduer and DarkTrooper7 which led to empty areas. In both cases, the thunderkittens alliance played a hand. They first drove out The Culture from sector E15S5: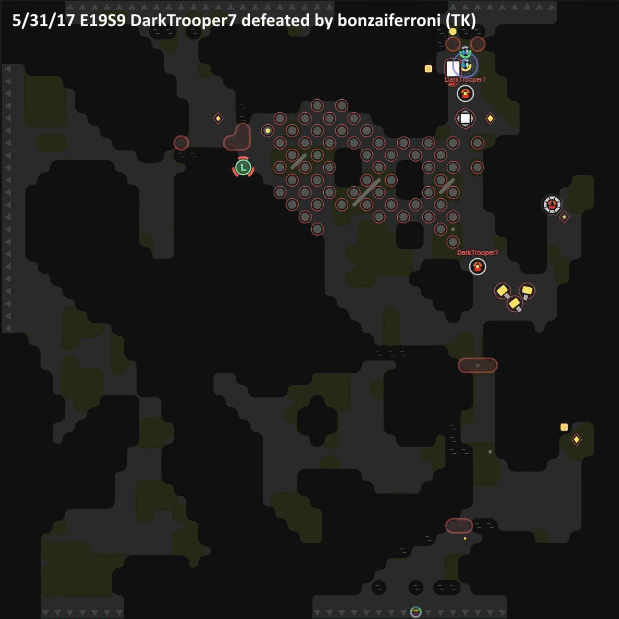 Then the rest of DarkTrooper7's rooms got deactivated to never restore again. Then an offense against Hernanduer followed resulting in his despawn. Our Featured Video summarizes this final battle with the player #1.
Of course, it's always sad for us to see players go, and we'll be glad to see familiar badges again on the world map after new features are implemented, such as shards or power creeps! Our subscribers will surely get notified about that via e-mail.
Political life keeps humming around the recent second global inter-alliance war. You can follow its episodes in a recently created site screepsworld.com or get a brief summary in a separate post in this blog.
Photos of fallen YP's rooms in result of SUN's attack: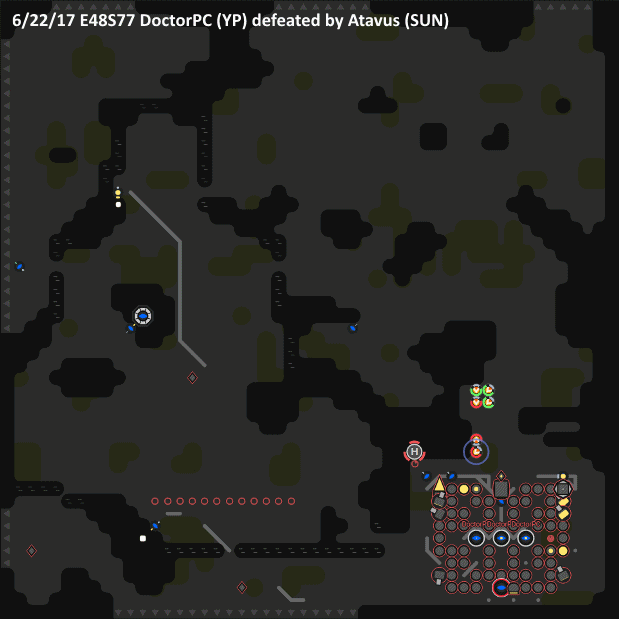 GCL is the main game resource, at least until level 28 which gives you the maximum CPU. In April, neomatrix managed to grab his only gold. Stybbe steadily stays in the Top 3 over the last quarter. But players demawi and kraiik keep the lead using the technique "much energy option 3". This method has been used for a long time by extreme upgraders after the limit of 15 units a tick for level 8 came into effect, but now more readily available energy seems to give a new impetus to charge the controller-pumping conveyor to the max.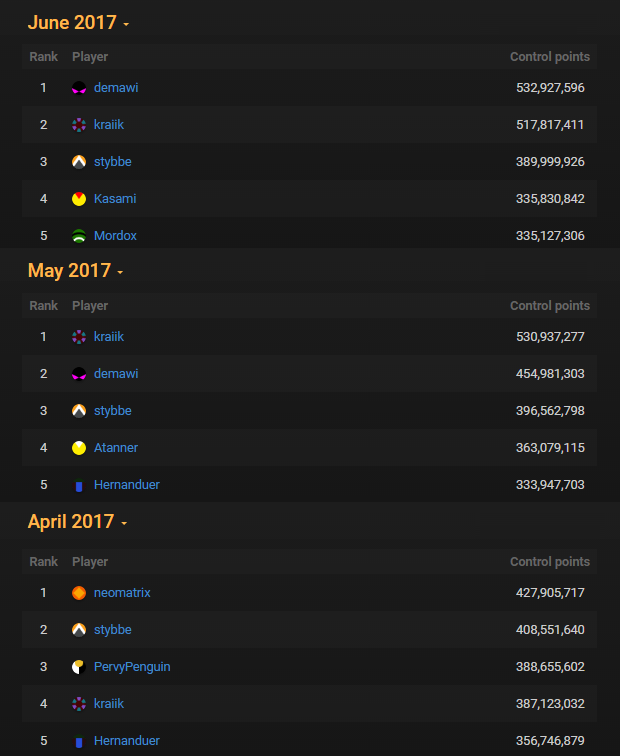 Some players always quit the world, others return to it, still others tour the map on the lookout for a better dwelling. Here is the migration chart reflecting the latter trend among those players who never respawned this year:
The migration champion is bonzaiferroni who abandoned half of his rooms scattered over the world to focus on the territory left by Hernanduer (including sectors W5S15 and W15S5). Great bounty!
Reini and bonzaiferroni smoked out TooAngel's rooms around the intersection E10S10, but his bot is feeling well everywhere, so he just reinforced his neighborhood with thunderkittens from another side – in sectors E25N5 and E35N5.
O4kapuk abandoned some of his rooms to scatter across the world. Indeed, the world is huge, so why not take a walk? You can make new friends which is nice, but also get some enemies along the way. But it's very hard for enemies to fight an over-scattered player, so it's also a win.
AzuraStar performed a number of reshuffles and enlarged his domain in sector E15N5 after downgrading DarkTrooper7's controllers there to zero. He grabbed a lot of X compounds, energy, and other niceties that successfully flowed into AzuraStar's coffers along his trademark chains.
Unlike his brother-in-arms Reini, ricane didn't have many free GCLs, so to entrench in sector E5N5 he had to abandon a few corner rooms in various parts of the world.
But Bovius, conversely, discarded a couple of extra graffiti rooms to grab as many corners as possible. It seems he's now setting stage for the expansion into shard1 which is not surprising given his passion for portal travel.
Zeekner first crowded his rooms adjacent to each other and then got rid of neighbors surpassing him by the presence in E25S65 to gain full control of it.
zGeneral was going to develop a few rooms near Nemah (AYCE), but after the attack he dropped the idea and started to slowly develop remote rooms with more space.
0xDEADFEED proved to be an ultimate re-detributor: he picks both new rooms and corner ones, as well as bunkers. Indeed, you can put to work just anything, be it power or energy, and bunkers are highly useful in times of war.
DKPlugins optimized his territory to adjust to his neigbor ramoja's domain. He now owns practically the entire sector of E65S15 and a balanced set of minerals.
The top 3 players in the Power ranking own the same amount of power overall as the 15 players below them. But half of them (highlighted in the top) have increased their activity and harvested more power in the second season than prior to it, and they got closer to the leaders.
| # | player | power in Q2 | total power |
| --- | --- | --- | --- |
| 1 | Hernanduer | 11,897,973 | 83,947,906 |
| 2 | Dissi | 16,498,290 | 61,956,773 |
| 3 | AzuraStar | 1,884,923 | 34,886,019 |
| 4 | bonzaiferroni | 6,624,031 | 20,173,666 |
| 5 | ART999 | 6,608,825 | 16,149,460 |
| 6 | Atavus | 7,536,601 | 15,752,640 |
| 7 | BlackLotus | 7,457,856 | 15,114,312 |
| 8 | stuy486 | 7,539,161 | 13,144,696 |
| 9 | Rajecz | 6,648,745 | 12,862,687 |
| 10 | maka_RTH | 4,285,457 | 11,953,272 |
| 11 | Ashburnie | 5,939,772 | 11,291,713 |
| 12 | Tigga | 7,416,268 | 10,806,555 |
| 13 | stybbe | 2,215,835 | 10,249,414 |
| 14 | bekvon | 2,719,327 | 9,139,110 |
| 15 | taiga | 3,478,043 | 8,678,276 |
| 16 | Bovius | 7,382,030 | 8,516,286 |
| 17 | Helam | 4,817,927 | 8,450,617 |
| 18 | Mototroller | 1,996,604 | 7,428,034 |
| 19 | Jibol | 3,767,745 | 7,408,884 |
| 20 | Kasami | 4,456,288 | 7,380,232 |
By now, more than 25 players have passed the 80 power level mark. The least experienced among them is Tigga with GCL 16. The power creeps concept is still being polished, its deployment delayed, but if you're uncertain whether to join the race, we recommend that you do it now, until you're a hopeless underdog.
On May 11 the transfer rate increased which positively affected the market: buying of energy increased 2.4 times, base minerals 40%.
Energy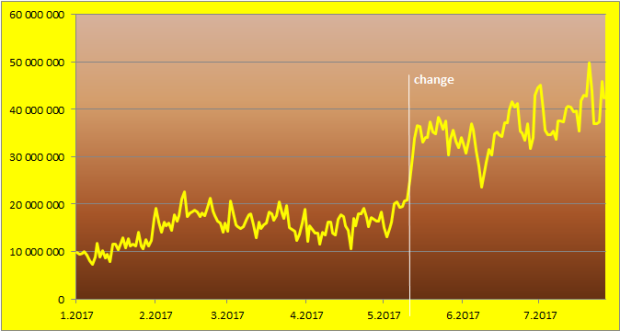 Minerals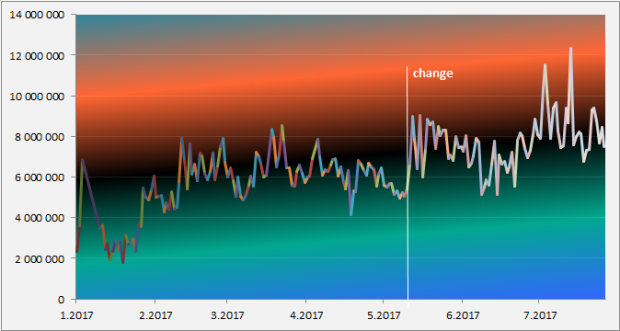 Oftentimes, an attack against your precious "sand castle" leaves you frustrated. But the game balance gives the edge to the defendant side. So if you feel negative emotions, first think: "Could it be my fault that I didn't prepare well?" If your code can withstand attacks well, you will never have to worry. Have fun playing everyone, and now let's see a battle of the giants: bonzaiferroni vs. Hernanduer:
---
Have comments or feedback? You can discuss this post here.