There have been no significant mechanics changes recently in the game. And this could be useful: it allows players to fix some bugs, do some refactoring, etc. For those who still plan spring cleaning in your code and memory, we advise to hurry because the long-awaited Power Creeps are just around the corner! We invite all of you to take part in the discussion. The better our collective mind understands all the details of the concept, the more reliable it will be. And if you've been sleeping and never collected a single unit of power, don't miss the opportunity to get your hands on the banks on your territory! 
The latest major update (aside from cosmetics) is the trade. The most expensive goods on the market is the subscription token. 5 months ago, you could buy it for 3M credits, but today… ok, it's still 3M today, and sometimes even cheaper. By the way, how many days of trading does it take to save money for 60 days of playing? Totally, 60+ tokens have been bought since the start of the market at the average price of 2.5M. 
Stybbe increased the amount of his golden cups 2 times within just one month. Taiga earned his first gold medal which secured him a place in the 2017 Year Top. As you could see from the 2016 Top, it's very difficult to snatch a cup from players with a high GCL, unless you've been saving XGH2O for a final spurt.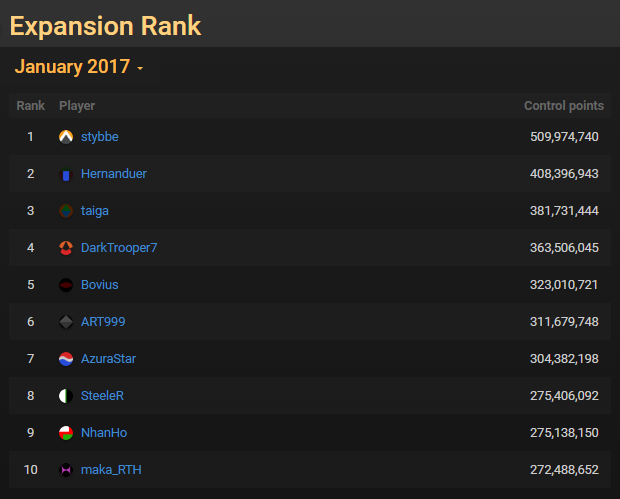 We have a new medalist in the PR Top. The third place goes to maka_RTH. Power Creeps is around the corner, so this previously secondary top will get hotter with each day until the resource goes live and breathes a new life into it.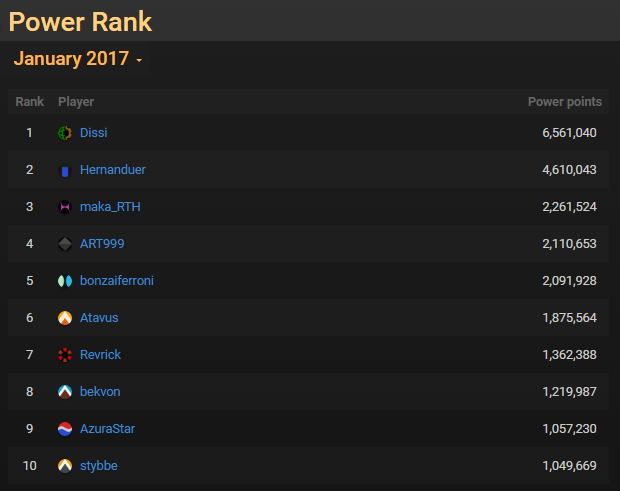 The user satellite's orbit is twice lower than necessary to embrace the entire map, but once a month we put it on the distant orbit to view the entire world for the history book. Do you see the lights of your colony and/or your alliance from this height?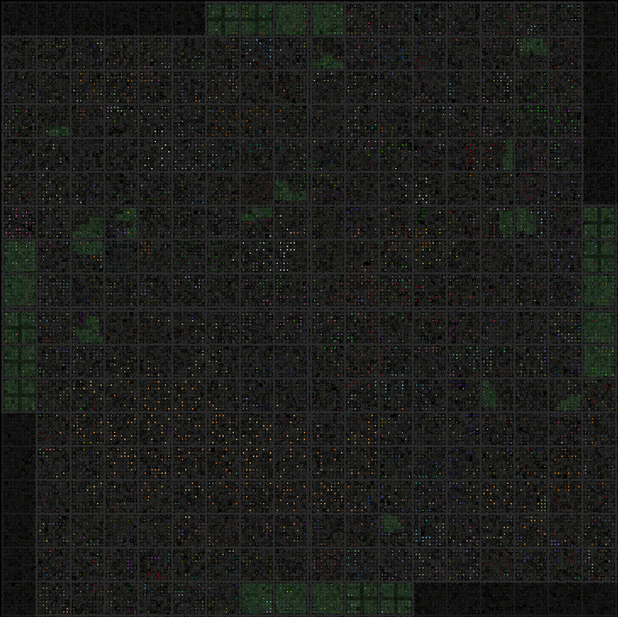 However, there is a handier viewer for alliances offered by leagueofautomatednations.com: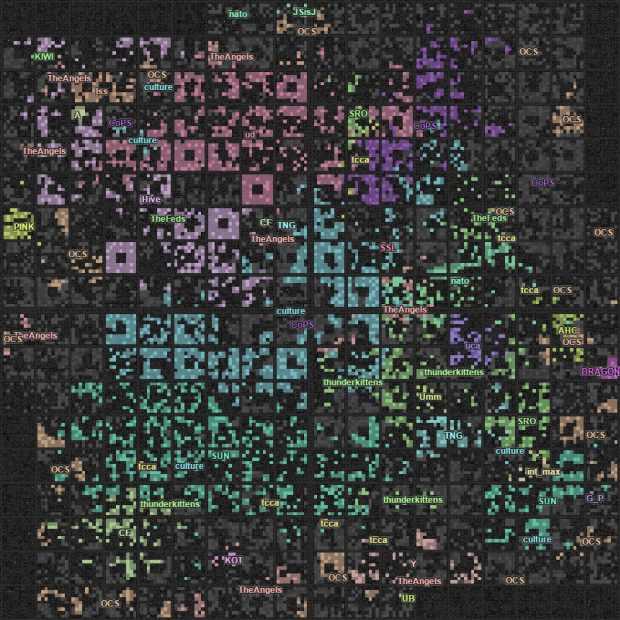 This year we don't have the alliance swa, they joined The Culture and now they have the highest GCL record: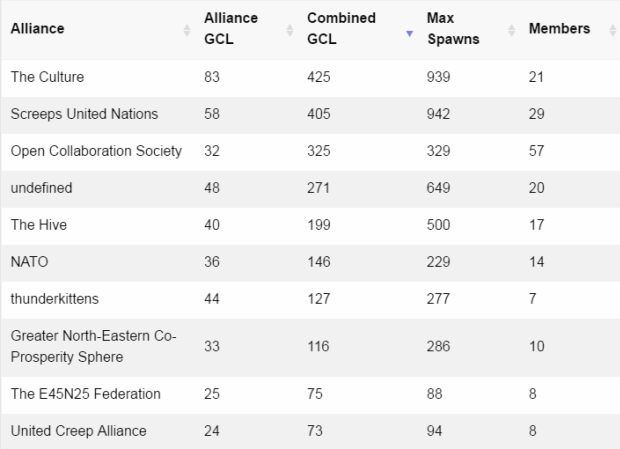 56% of players with GCL 10+ are in alliances, but there are still some lone wolves that are yet to join somebody. Let's call them the Alliance of Neutrals, and here is their Top 15: 
R33T4RD is under pressing currently: all their rooms but 2 are destroyed. Yep, it's not an easy walk to live on the border with a bellicose alliance SUN: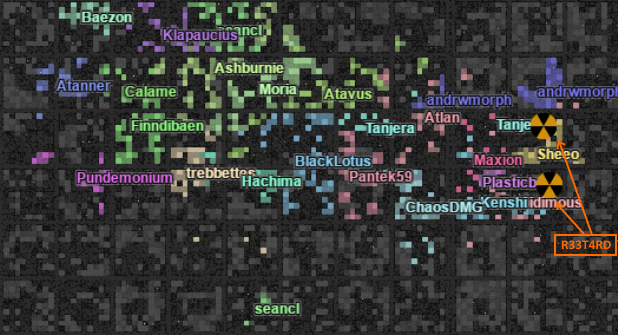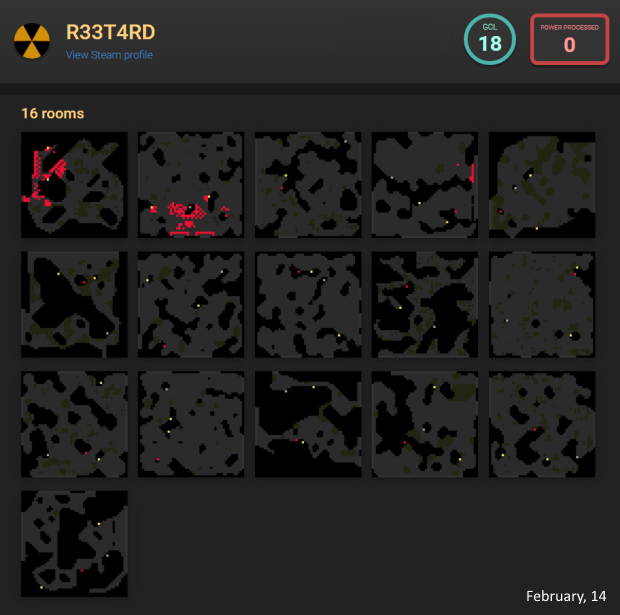 A third of level 8 rooms are not fully equipped with towers. There are few rooms with 1 or 4 towers which could mean that players underestimate them or just forget to use their potential when upgrading level. Here is a chart to show the number of towers against the number of rooms: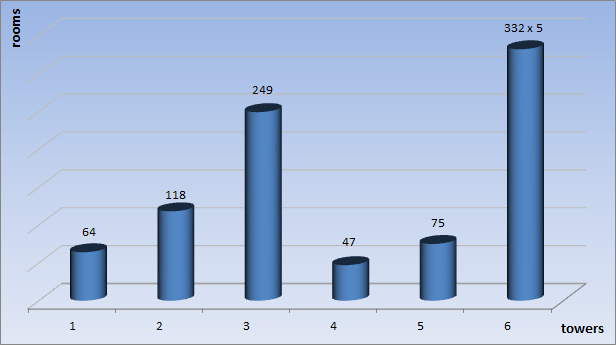 A tower is a versatile thing that can harm, heal, or repair. But it has no wheels (though some players developed a system to automatically rebuild it at another place), so the effectiveness of a tower depends on its location relative to a target. For example, you can assign all the 6 into defense or make some of them erect walls. The video of the month shows how players tackle this problem: