This post has been published at Indiegogo campaign on April 29, 2015.
Screepers!
Private Early Preview will launch on May 20!
We worked hard, so now we have something to show you at last. Mark this date in your calendars, take leave at work, and tell family you won't be available: in 3 weeks, on May 20, at 17:00 UTC, the private Early Preview of the full-scale MMO World Mode will go live. This is exactly what Screeps was devised for. The Survival and Arena were just introductory modes purposed to test the engine and servers. Now is the time the real game begins!
Those of you who joined our Indiegogo campaign with $10 or more will automatically receive an email with the Early Preview activation code. You may enter it right now here. All the rest can fill in the request form on the site – we will invite new players as the capacity grows.
The game world map is already live on the site. Here is its part: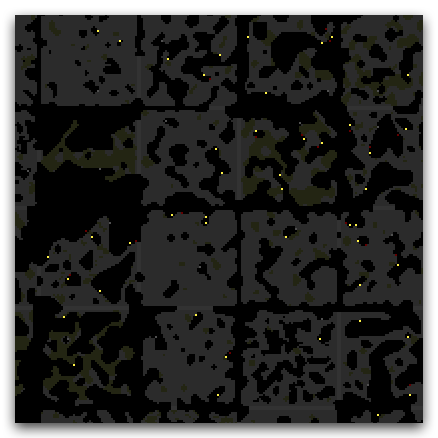 When the launch countdown timer runs out, you will be able to place your first spawn in any room you like (inside the region available for settling) and set out on your long quest to the total dominance in the online world of Screeps.
Take note that the Early Preview purpose is to test and debug everything prior to the public launch. Please report any errors or bugs you may find as you play. After the end of the Early Preview, close to the public launch, all the world data will be wiped.
By the way, we will set up a forum on our site shortly. Stay tuned!