More than 200 players last month were setting up their AI and polishing their JavaScript skills. Some were mastering new features, while others tried to learn the basics. Meanwhile, we've got exciting news for all of you about everything worthy your attention!
Hernanduer[29] again tops the Power Rank with 27M+ power points. This is 46% of all the power harvested in the world! The competition in power mining is still low which allows more dexterous players to claim cream of the top. Here is the rating of all the power harvested and collected in accounts for all the time:
The rating also includes players with paused subscriptions. But if they resume playing, all the power processed, as well as their GCL, will be saved and can be put to use for planned superpowers of power creeps. Just to remind: each unit of processed power not only gives you a rank position today, but also "experience points" for your power creeps tomorrow.
AzuraStar[30] keeps in the lead in the Expansion Rank. NhanHo[29], on the other hand, fell to his lowest position ever: 4th place, and he's even close to the 5th in the current season.
We should especially highlight such a GCL/CPU titan as Dissi[21]. He's the most active at the moment in terms of expansion: changing locations and boosting his upgraders make his chart twist:
The current chart link: https://www.cs.cmu.edu/~dannyz/screeps.png
danny[20], the author of this activity chart, was in coma for 10 days and revived at the last moment, when his controllers were down to level 1-2. It's naturally because of the deprecated methods that were removed on May 12 (changelog). That said, he managed to quickly restore his RCL in his rooms due to the new downgrade timers mechanics. As for Avicenna[10] with a similar situation, once the "master" of the sector W15N15, he perished ultimately.
In a newly-matured sector W5S25 there has been no definite monopoly so far, but the most advanced here is YuraZ[6] who luckily managed to occupy a landscape of natural walls: 11 rooms with only 4 exits.
A yesterday's young larva, Zergling[11] hatched out of his novice egg and quickly justified his name by spreading across all the sector W15S25. He is now only second to Skorp[12], a novice who started just recently and now in the Top 10 by expansion. Congrats!
Let's see who has the greatest total RCL weight in their sectors:
A group photo, smile!
The most powerful weapon so far has emerged recently: Nuker. The first to push the red button was Dissi. Look forward for more details about nukes in our next review.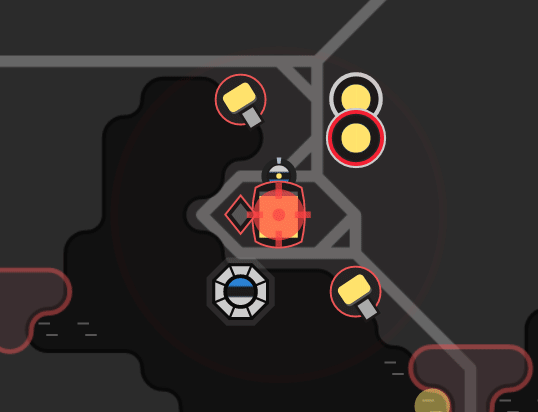 Apart from the launch of 7 nukes, Dissi nicely dealt with 7 rooms of Hatyr[9] by more antique methods. So he's the director of our featured battle today: