The September season has passed. A new sector E15S5 was opened and was immediately populated by strong players. In order to let novice players get accustomed, a Novice Area was opened in the special sector W15S25. After some time, and it will be accessible from the main map. We plan to keep one dedicated sector as a Novice Area at any time, it will be moved as activity increases.
А new sector E5S15 is also open and gradually being occupied. Here is the current map view:

The season leaders are NhanHo (GCL 12), 1st place, and DarkTrooper7 (GCL 12), 2nd place. They did not get involved into serious bickering, but focused on embracing the maximum number of sources which allowed them to beat top players by roughly 3 rooms. Here is the September Top 10:

The last season (August) leader, chris (GCL 8), did not claimed the Expansion Rank leadership this time and finished as merely the 19th. A monthly result is a very rough approximation of the power balance. Thanks to user danny (GCL 7) who made an auto-updated chart to monitor users progress in real time. Here is the September chart:

This chart shows not only one-on-one duels but also individual status of players who, for example, fell into a coma (strict horizontal line), like Rumatah (GCL 6) 09.20, waited to attack, was attacked, or self-destructed, like Aeneas (GCL 7).
For the bronze, AzuraStar (GCL 11) clashed with Hernanduer (GCL 10), and some fighting ensued as well: AzuraStar wiped 3 Hernanduer's rooms:

Aftershocks of this battle may still be seen: Hernanduer's controller in E12S5 is imprisoned - AzuraStar besieged it with walled rooms and doesn't let the downgrade timeout to expire. It's an interesting tactics that we'll cover some time later.

Previously, Hernanduer were siegeing a DunknDonuts' (GCL 3) stronghold in W7S14 for several days. The offense turned out to be successful: the room was included into his domain.

Then Hernanduer supported the campaign against abnessor (GCL 5), destroyed strabino (GCL 4) and Gipphe (GCL 2). So he may be awarded the title of the warrior of the season, and "his" sector, the flashpoint of the season.
Abnessor's defeat was initiated by the red-white-blue alliance. The same fate loomed for all the rest in the sector W5S5, and now there are only 2 competitive rooms in it: W1S4 (theAEmix, GCL 8) and W1S3 (unimatrixZero, GCL 4). We're definitely having a monopoly. If we show sectors schematically according to their total RCL leader, we'll see the following picture:

* Reservation is equivalent to level 2.
We can see here a telling situation: the three-colored devour three sectors: W5N5, W5S5, and W15N5. For example, here is how Vision (GCL 7) does that:

In the sector W15N5, Vision has stepped into a fight for dominance over the whole sector. Initially, sources in the center of the sector were controlled by Rumatah who was gathering them into his remote colony in W14N7, but Vision started to systematically drive him out of the sector. First, he blocked his mining activities in remote rooms, then he besieged the W14N7. Rumatah tried to counter-attack in Vision's rear rooms by destroying his infrastructure in the W12N7 and keeping doing the same in other rooms as well. This battle is still ongoing at the moment.
Room history playback feature
In this review, we are happy to announce a new major feature that many players have long waited for.
Would you like to see how your creeps have acted for the past several days while you were absent? You were attacked, and now you need to review how the attack had gone and how your defense had behaved? Or you just like to watch your colony the 10x speed?
Now it becomes possible with the room history playback. All the actions history in all the world rooms for the last 500,000 ticks (8-12 days depending on the tick duration) is saved and available for review by any player. Click on the "Replay room history" button in the room properties to playback.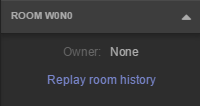 You can set the review speed from 50% to 2000%, pause, rewind to any moment, and review any objects and their properties in the same way as with live objects in the game.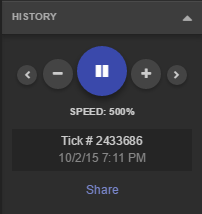 Moreover, history playback is available without signing in. By using the "Share" button, you can send a link to a specified moment in the room to anyone, and he or she will be able to watch the course of the game without having a Screeps account.
To demo this function, we've prepared a collection of links to some interesting battles for the past several days:
If you have interesting moment in your history, share them in the comments below the article!